About Us
The Eastern Mass. Roller Hockey League (EMRHL) est. 1999
owned and operated by Icehog Inc.
GET READY FOR A NEW HOCKEY EXPERIENCE !
The EMRHL has combined the best ideas from many different hockey leagues, to form what we feel, is a very unique and special roller hockey league, for about half the cost of ice hockey and almost twice the playing time.
Pre season drafts and midseason trades, just like the pros, are only part of what separates the EMRHL from many other leagues. The goal is to not have one team dominate every season. So reshuffling the deck after each season has worked to accomplish that, as well as trades during the season.
We do not take full teams, only individuals in most cases. However, new players can request to play with a friend for the first season or two, and we try to accommodate that request the best we can.
Before the season we have a captains meeting and draft teams with the goal of putting together 8-10 teams of equal skill and talent. During the season as players drop out, we add players from our waiting list to fill the open spots.

If rosters are full, we try to sub in new players if we have a cancellation on a particular night or day, until a full time slot opens up. We try to maintain integrity for the playoffs, but if we know in advance or there is an emergency, we do allow for substitutions at the Commissioner's discretion..
Here are more of the details:
Emphasis on team parity through a draft and mid-season trades

Team jerseys supplied to all players to use at no cost

A superior league web page updated daily with scores and stats

Entertaining game recaps and Weekly Stars

Player interviews and quotes

Olympic style tournaments and Skills Competitions during the year.

Rough play or Fighting is dealt with swiftly and severely

An inexpensive alternative to ice hockey
Cost is roughly $13 per game.

All Skill Levels welcome
(But it's not a learn to skate league)

SATURDAY LEAGUE

Jump out of bed and get a game of hockey in Saturday morning, and still have most of the weekend to do those household chores.

TUESDAY LEAGUE

The mid-week league does not interfere with Monday Night Football. Get in some hockey, then face the rest of the work or school week.

---
Right now we only have adult men's leagues, 18 and over.
All games are played at Hockeytown in Saugus, Mass. We accept all skill levels, but you must be able to hold your own on skates, and we reserve the right to refuse any player for the safety of all.
Both the Saturday and Tuesday leagues only accept individuals. We have a draft before the season starts with the goal to create balanced teams. New players can request to play with a friend for their first season.
---
Here what some of our players are saying about the EMRHL:
"I've been in other leagues, and they're nothing like this one. You go and play your game, and then hang around watching the other games with everyone else, it's like a night out with the guys."
"I was a proud member of this fine league for 3 seasons - which, in my mind, is the most complete roller hockey league you will find anywhere in the United States. If you are looking to start up your own league somewhere, take a quick look at this league and start taking notes from Mr. Dave Gardner - the brainchild behind what is becoming one of the most successful leagues in all of New England. Great camaraderie - tons of fun - couldn't ask for a better bunch of guys or a better league."
"The coverage of the games are great, but the best part is the message board. To keep up with things, contact people or just for fun...There is no better way. The EMRHL is also very strict on fighting while maintaining league parity with midseason trades."
"What's great about the EMRHL is that you can make your experience into whatever you want. If you just want to show up, play and leave that's fine. You could also hang around before and after the game and talk with the people you just played against. And because it's a draft system, you
meet and play with everyone if you stay in the league long enough."
"This league really is a lifestyle more than anything. Yeah, you can be the top dog for a season, but try doing it year round. I mean, there is no off-season, so being consistent is the real key. You can't let things like injuries and fatigue bother you for too long. So keeping yourself healthy and in shape
become apart of your daily schedule, especially when the next season starts the week after the championship."
---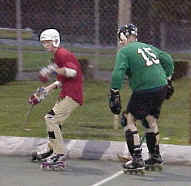 In The Beginning...
The league started out in an old tennis court in Beverly, Mass. in early 1998 as a weekly pick up game. After a year of steady play, it was time to get organized.
In the spring of 1999 plans for a league were made, and at that time, the Beverly Roller Hockey League was born.
Through sponsors and volunteers, the league and its players fixed up the old tennis court, bought new nets and a new scoreboard, and when the weather cooperated, the four teams would play a league game every Wednesday night.
The players were made up of people of all skill levels who were tired of playing in other leagues, where fighting was more important than playing hockey. This group of players would play official league games from the spring of 1999 until the fall of 2000 outside at the Beverly Youth Center.
In the fall of 2000 the big move came.
The league was tired of waiting for five months of winter to end before playing again. So the Wednesday night league moved indoors to Saturday morning at Hockeytown in Saugus, Mass.
Now the league had a bigger rink, better playing conditions, and best of all, no cancellations because of rain, and year round play.
After one season which ran through the Holidays in 2000 and into early 2001, the Beverly Roller Hockey League expanded from a local league to a regional league and at that time became the Eastern Mass Roller Hockey League.
---
League Expansion
The EMRHL started regular play at Hockeytwon in Saugus, and the news spread. Through a large and informative league website and word of mouth, more and more players were looking to join.
Players from the Boston area, Cape Cod, New Hampshire, Rhode Island, and Maine began playing in the EMRHL.
The EMRHL expanded to a second day, Tuesday night, in March 2001. The league now ran two different leagues to accommodate the influx of players, though many players play in both the Saturday and Tuesday leagues.
The four team Tuesday league took some time to get on its feet, but by summer 2001, thanks to Arrowfarms in Chelsea, the Tuesday league had new jerseys and was in full swing. Soon the Tuesday league was ready to add more teams.
The EMRHL saw continued growth in 2002. The Saturday league grew from 5 teams to 7 teams. The Tuesday league grew from 4 teams to 7 teams.
Now in 2014 we celebrate our 15th year !!!
The Tuesday league continues to remain full and have 8 teams while the Saturday league has expanded to 10 teams.
Contact us right away to get in on the fun !!! daveicehog@aol.com