HEADLINES
Seasons underway
Both the Tuesday and Saturday seasons are underway as they both kick off the summer seasons. It looks like the Saturday captains did a better job picking teams than the Tuesday captains.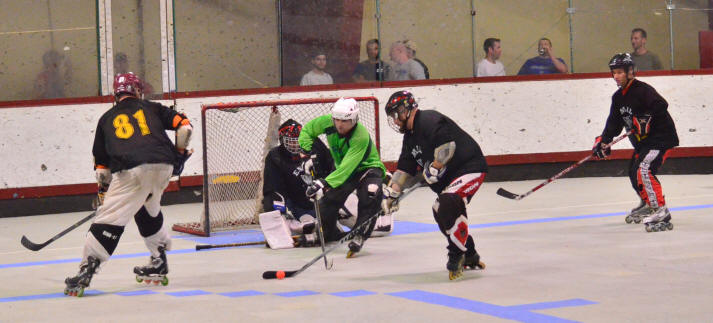 EMRHL Radio on Spreaker.com
If you have a Smartphone, download the Spreaker app and check us out, or you can listen here or at
https://www.spreaker.com/show/emrhl When we go live it shows LIVE below and you can listen right from here.




The Saturday League rolled into week two and had several blowouts.

9am was the first blowout with the Spikes delivering a 10-2 loss to the Green Jackets. Tony LaVerde and Mike Proctor had good games, Scott Fowler not so much.

10am was blowout number two. The Jammers hammered the Rubber Ducks 11-3. This one was over first the first period ended. Mike Parkinson was awesome in this one sided game.

11am was yup, another blowout. The Barons redeemed a week one loss with a huge 12-2 win over the 1-0 Pelicans. Both teams are now 1-1. Nice game by Kenny South Park in net.

12noon finally gave us a good game. The Muck Dogs got a late goal from Woody as they knocked off the Snappers 8-6.

1pm saw the Diggers get their first win, taking the 1pm game 9-5 over the Flying Squirrels. Dave Chase had a goal and three assists in his first game in about 9 years.



Dave Chase

Remember him? He's back.



Tuesday night stumbled into week two, with the same teams still struggling.

7pm had the Grand Canal offense barely show up. They only managed one more goal than last week in a 7-4 loss to now 2-0 Hong Kong.

8pm was crazy. 11 goals in the first period alone. When the dust settled, Sully's Tap skated away with a 14-11 win over the Harp.

9pm was another one sided affair with the Black Rose slaying the Green Dragon 10-4. Even Justin Perry had a goal for the winners.

10pm was the only good game of the night. Two powerhouses went at it. Two goals in the later part of the third period by Estrela gave the Fours a 7-6 win over ABG.

Looks like the Beer Summit may be moved up a few weeks.




Jim Celeste

Starting to play like a real goalie.

---
Follow the "E" on Twitter